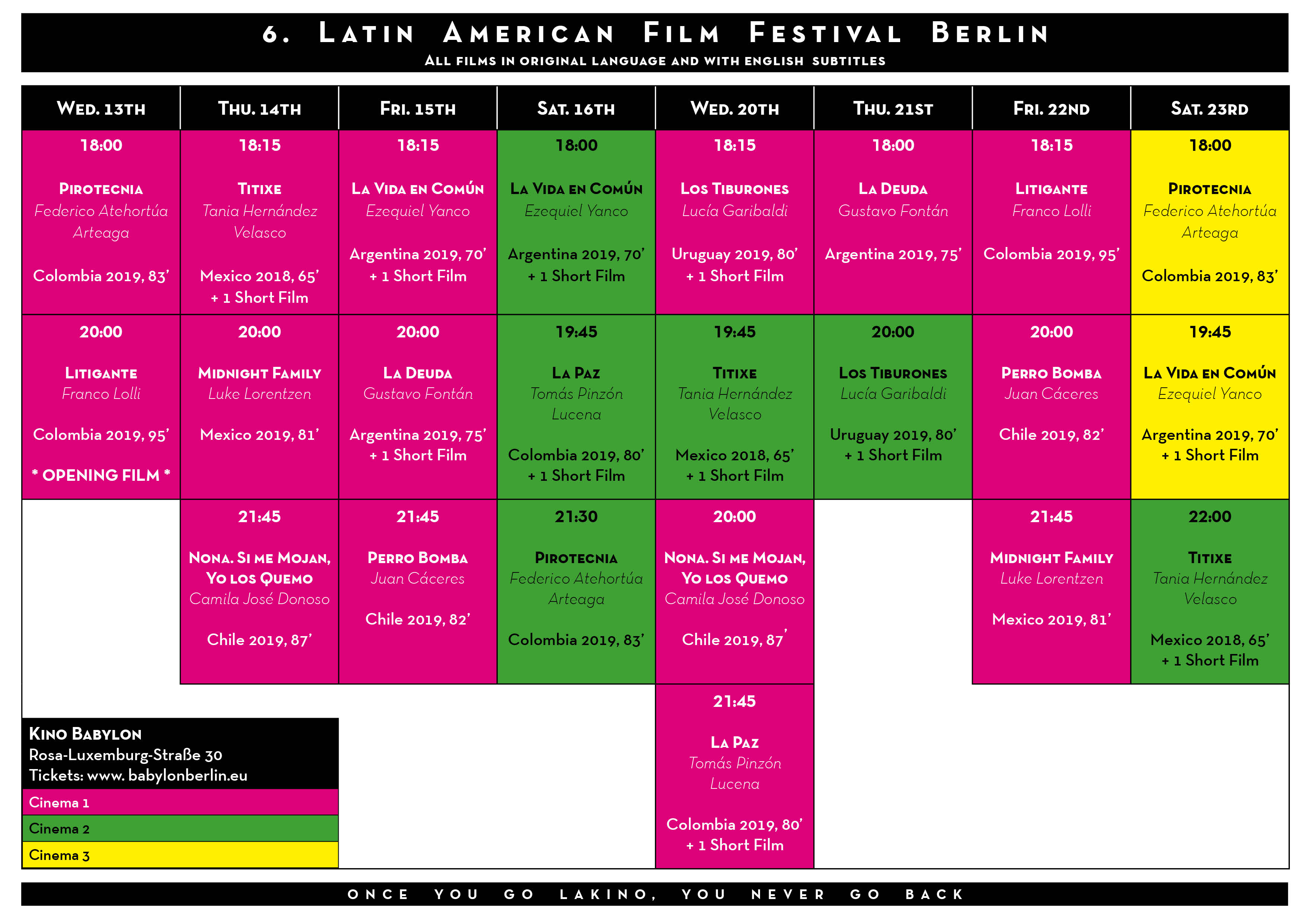 DATES: 13. – 23. November 2019
LANGUAGE: All films in original language + english subtitles
TICKETS: Directly at the cinema or buy them online in our website just click at TICKETS
CINEMA: Kino Babylon, Rosa-Luxemburg-Straße 30 (Mitte)
To download timetable click here
Impressive recent productions from across Latin America that shows the vast breadth of styles, techniques, and approaches employed by Latin American filmmakers today.
Litigante [The Defendant] COL 2019
R: Franco Lolli, 95 Min., OmeU
Between raising her young son, taking care of her ill-tempered, cancer-battling mother, navigating her career as a top-notch lawyer dealing with a major corruption scandal, Silvia could very well be on the verge of a nervous breakdown. And what if the answer to all this was simply… love?
Perro Bomba CHI 2019
R: Juan Cáceres, 82 Min., OmeU
Steevens, a 21-year-old Haitian immigrant, leads a simple but steady life in Chile. He works at a construction site, spends his free time with friends, and heads back to his apartment in the evenings. Yet his own life is a fragile construction, since the laws in Chile don't give immigrants any breaks, and the population in general looks down upon him with disdain or even hostility. This becomes clear when Steevens' childhood friend Junior immigrates to Chile and requires his help. At first he is more than happy to support his friend, but Junior's erratic nature and his status as an illegal immigrant soon create cracks in the stable life that Steevens has painstakingly built.
La Deuda [The Debt] ARG 2019
R: Gustavo Fontán, 75 Min., OmeU + 1 Short Film
An Argentinian nocturne about a young woman who only has until sunrise to pay her debts. Because she's chronically short of money, Monica feels forced to help herself to some cash from her employer's till. When the shortfall is noticed, her boss gives Monica an ultimatum: she has until the following morning to replace the money or she can look for a new job. In the quiet of the night, a journey begins in which every encounter she experiences underlines for Monica the pain of her own situation.
Los Tiburones [The Sharks] URU 2019
R: Lucía Garibaldi, 80 Min., OmeU + 1 Short Film
While a small seaside resort is agitated with the rumour of sharks arriving to its coasts for the first time, Rosina seems to be the only one who's not worried, even showing empathy for the supposed rovers. Now she takes advantage of the moment to move silently and do everything she wants to do but shouldn't, as though driven by animal instinct. Los tiburones (The Sharks) talks about being surrounded by many but feeling alone, about what's hidden beneath the surface, about hot blood, the sea and the irremediable search for empathy.
Midnight Family MEX 2019
R: Luke Lorentzen, 81 Min., OmeU
The Ochoa family runs a for-profit ambulance in Mexico City, competing with other EMTs for patients in need of urgent help. While making a living in this cutthroat industry, they struggle to keep their financial needs from jeopardizing the people in their care. When a crackdown by corrupt police forces the family to try legitimizing their operation, their desperate financial situation pushes them into questionable practices even as they continue providing essential emergency medical services.
Nona. Si me Mojan, Yo los Quemo [Nona. If They Soak Me, I'll Burn Them] CHI 2019,
R: Camila José Donoso, 87 Min., OmeU
Grandmother, friend, anarchist and arsonist – a director portrays the life of her grandmother with cinematic chutzpah and explores the radical edges of her own existence. After a campaign of revenge against her ex-lover, 66-year old Nona escapes to her summer house in Pichilemu, a Chilean coastal town. While she dedicates herself to the deceleration of making pottery, a series of forest fires drives her neighbours from their houses. Is there a pyromaniac on the loose? Fear stalks the otherwise quiet and shady streets, the police are in the dark and wild speculation fuels the rumour-mill. And the more houses go up in smoke, the angrier Nona gets.
La Paz [Waiting for the Peace] COL 2019
R: Tomás Pinzón Lucena, 80 Min., OmeU + 1 Short Film
After almost four years of negotiations in Cuba, the FARC and the Colombian government signed a long-awaited peace agreement. It is precisely at this moment in time that we join a squadron of guerrilla soldiers at a camp in Cauca, South Colombia, during the transition to the laying down of weapons. As they play soccer, cook, dance, watch the news on television, attend classes and talks, we are privy to their daily routines, casual conversations among themselves as they clean their guns, their recollections of the war, what they hoped to achieve by taking up arms, their hopes and fears for the future… Most of the time, La paz limits itself to observing the group and recording their opinions on what peace means to them, the reasons they joined the guerrilla in the first place, their views on love and the uncertain times that lie ahead. A war that produced no victor on the battle field; a peace that the protagonists of this documentary consider a victory.
Titixe [Titixe] MEX 2018,
R: Tania Hernández Velasco, 65 Min., OmeU + 1 Short Film
last peasant of a family has died and with him, all wisdom to till the soil has been lost. Without experience, his daughter and granddaughter will attempt a last traditional harvest to try to convince Grandma, the widow of the peasant, to keep their plot of land. Together they will uncover the leftovers (locally known as the titixe) of this man and his world: a mourning tree, dancing sprouts, the language of clouds, ghosts, stories and the endless menace of losing the crops to a tempest. This is an intimate mosaic of the last harvest of a Mexican family, in a country that has forsaken its rural origins.
La Vida en Común ARG 2019
R: Ezequiel Yanco, 70 Min., OmeU + 1 Short Film
Surviving between the traditional and the modern: an artificial desert city in Argentina is haunted by a puma. A modern tent city of concrete stands like a futuristic foreign body in the inhospitable wasteland of the desert. The local government built the houses and ever since numerous indigenous families have lived in the artificial community of Pueblo Ranquel. But one day the camp is visited by a stray puma and fear spreads through the town. The adolescents decide that the puma must be killed. For them, the hunt is a rite of passage, but Uriel wants to find a different solution.
Pirotecnia [Mute Fire] COL 2019
R: Federico Atehortúa Arteaga, 83 Min, OmeU
In the tradition of Harun Farocki and João Moreira Salles, in this personal film essay Federico Atehortúa Arteaga examines the relationship between film footage and the events of the war in Columbia. Due to an accident in his family, the director becomes aware of the strange relationship between his mother, the beginnings of Columbian cinema and the events of the armed conflict in Columbia. The film looks at a war that he personally did not experience, but whose pictures and stories are well-known to him and generations of Columbians.